Magnolia's unique sound comes from the mingling of players with different musical backgrounds: Klezmer, Balkan, Jazz, brass band, polka, and classical. The band's repertoire also includes Yiddish theater tunes and E. European folkdances as well as Klezmer from the old world and new.
Now 27 years old, MKB comes in a size to suit all: a 12 -15 piece 'industrial strength' concert band and smaller subgroups, from 4 to 8 suitable for club dates and for weddings, bar-bat mitzvahs, parties, benefits, and other celebrations.
MKB has performed at prime regional venues in the Triangle/Triad area of NC including the well known club, Cats Cradle, The Cave, Motorco Music Hall, the Pittsboro General Store, the Duke University Performance series "Jazz on the Patio", the Carrboro Arts Center 30th anniversary and the WorldArts Festival, a Ciompi Quartet concert, Jewish Film Festivals, the Southern Institute for Contemporary Art, the Raleigh International Festival, the opening of the Peoples TV channel, Apple Chill, the Chapel Hill Museum, Weaver St. Market Jazz Brunch, Hillsborough "Last Fridays", Southern Village Green, senior centers and retirement communities, schools and festivals, and at various synagogues in NC for Simchas Tora, Hanukkah and Israeli Independence day. In 2006 a group of Magnolias appeared on NPR's "The State of Things" and in 2007 the entire MKB appeared in a Pinecone "Music of the Carolinas" concert. This was recorded live and a CD, "Trip to Amerika" was released. (Click Listen for info.) In 2010, MKB was invited to again perform at a Pinecone concert to celebrate the permanent exhibit of "Down Home: Jewish Life in NC" at the Raleigh History Museum.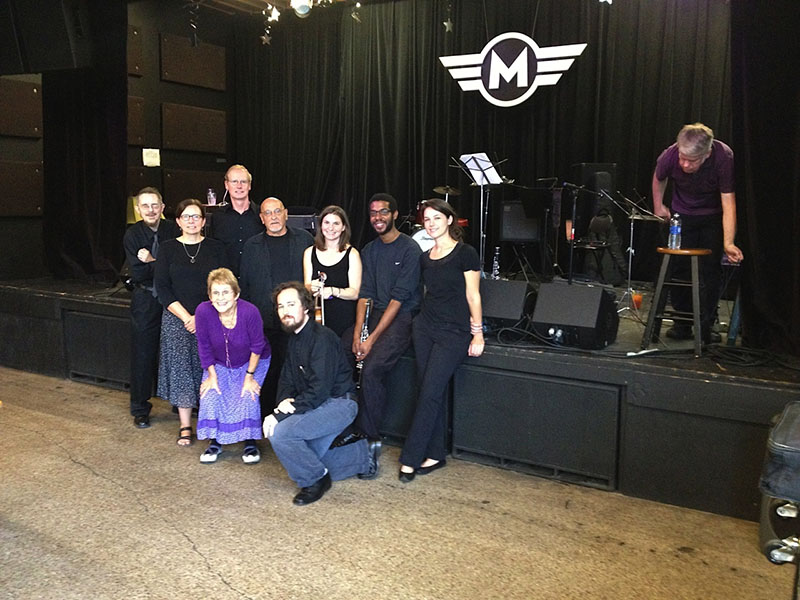 Motorco Music Hall - 10/14/2012

Praise for MKB from Kathy A. Silbiger, Former Executive Director of Duke Performances,
"I have presented The Magnolia Klezmer Band on two occasions as part of an outdoor summer series. They 'packed the house' each time, and had the audience singing along, even getting up to dance. Their performances of klezmer and gypsy music were punctuated with knowledgeable and clever comments about the music and its history, and the repartee between the performers made everyone feel part of the show."
And from Frank Heath, owner of Cats Cradle,
"Elliott, Great show! Let's do it again some time. I think everyone enjoyed themselves."
And from Sid Smith, former chair of the German Dept. at UNC,
"Sandy, congratulations to you and all the Band for that great performance on the lawn in Carrboro! I can't think of another Sunday that I enjoyed as much as this one! My IFD friend Lili and her husband joined me for the occasion, and they too found it really super. People in this area are really lucky that your group is treating us to such great klezmer music. Many thanks!"

February 9, 2012,
The blog "Gimme Five" featuring Elliott Mills appeared in the Carrboro Citizen, a local and favorite area newspaper.
http://www.carrborocitizen.com/mill/2012/02/gimme-five-elliott-mills-of-magnolia-klezmer/

And from Jim Dennis, organizer of the Carrboro Music Festival in 2017
"It means so much to me that you kick off the day downtown for us. I really mean it. Thank you My guess is you were playing to a bit over 200 people yesterday. If you had anyone taking photos of the band in full swing or the band and the crowd please forward a few to me. I could use some good shots for promoting next year. Thank you again my friend, Jim"
| | | |
| --- | --- | --- |
| | | |
| Pinecone 2007 | | Pinecone 2011 |